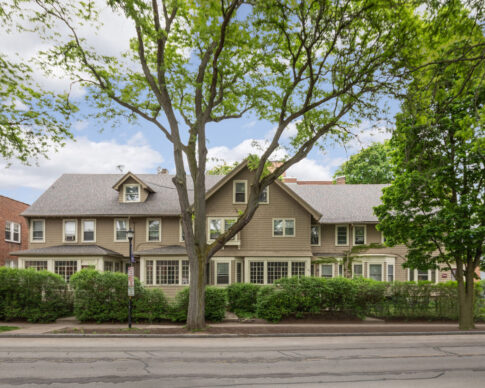 Overview
Three row houses and a double house comprise 246-254 Park Avenue. In the heart of the trendy Park Avenue area, this property, built at the turn of the century, is for those who value space in an urban setting. Each row house has a full basement and attic, three to four bedrooms, and a bath and a half. A full dining room rounds out the 1,500 square foot interior space in each unit. Unique to one unit is state-of-the-art bath with jacuzzi, oversized tub and wet bar. The double house at 254 Park has been remodeled into separate one-bedroom and two-bedroom apartments with a modern kitchen and bath. Parking is available directly behind the building for this property.
In addition to large apartment buildings, Hanna Properties owns and manages thirteen other properties that may fit your rental needs. These multi-family houses range from three to ten apartments, and have over thirty unique apartment floor plans.
Preserved historic architectural features abound. French doors, stately oak doors, private entrances with porches, modern kitchens and baths, high ceilings, fireplaces, hardwood floors and crown moldings are only some of the features available in these one-of-a-kind apartments.
Apartments range from studios to multi-leveled homes with dining rooms, full basements and attics. One unit even has a state-of-the-art bath with Jacuzzi, over-sized tub and wet bar. One bedroom apartments and two bedroom apartments are also available. Pet-friendly apartments – cats are welcome! 24-7 emergency maintenance service.
Description
3 rowhouses and a duplex
Rowhouses have private laundry
Includes heat hot water and gas
Access to fitness center and rooftop deck
Off-street parking
Two cats only
24/7 emergency maintenance
Contact Now About This Listing